We stock O-Rings in large quantities in all manner of compounds and hardnesses, including nitrile, viton, EPDM, silicone, fluorosilicone, plain and encapsulated PTFE to meet British, European and American specifications.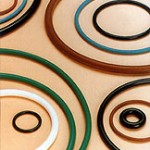 The 'O' ring, or toroidal seal is an exceptionally versatile sealing device. Applications ranging from garden hose couplings to critical aerospace duties make it the worlds most popular volume-produced seal.
O Rings to suit many static and dynamic duties, compatible with most fluid media
Support and expert technical advice are always on hand. Please Contact Us.